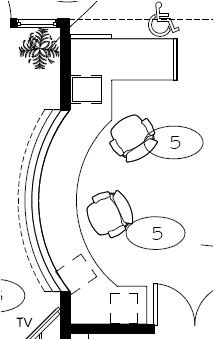 We believe that the front desk can have the most impactful WOW factor for your office.  But it must be functional, and in most locations it must meet ADA standards.
This article is intended to give you the basics for designing a front desk that will meet most interpretations of the ADA standards. As addressed in our article on ADA Compliant restrooms, the ADA standards are the American Disabilities Act of 2010 which ensures your environment accommodates the needs of the disabled person by making sure they can comfortably use and maneuver through the space. This article should only be considered a guideline, as we have found local and state interpretations and independent codes will override these guidelines.
ADA COMPLIANT SERVICE COUNTER
So when looking at the codes, the front reception desk for a chiropractic office is typically considered a "service counter" for your patients under the ADA Standards by most authorities. It also is considered a "work surface" for your staff. This requires it to meet the needs of a person in a wheelchair and keeps you from discrimination. This is not absolute, and often if the local codes are vague or loosely enforced and you don't regularly have wheelchair bound patients, we will design a desk without this counter, but we believe it is best to plan for ADA in the design and be ready to modify quickly if the permit official requires it.
For the ADA service counter requirements, you must provide a counter located adjacent to a clear floor space of at least 30 inches by 48 inches within the accessible route with additional clear floor space required for a wheelchair turn space. This counter is to be no lower than 28 inches and no more than 36 inches maximum above the floor. The non-ADA transaction counter that is used by the patient is typically 42 inches high, for reference. The ADA counter is to have a 36 inch minimum length for a parallel approach or a 30 inch minimum length for a forward approach. A forward approach needs to have 12 inches of knee space under the counter.
ADA COMPLIANT EMPLOYEE WORK SURFACE
The user side of the counter must meet ADA codes also. The counter height range for an ADA work surface is from 28 inches to 34 inches above finished floor. The typical seated height will be 30 inches, but if you want a stand-up counter, it can be no higher than 34 inches. Please note that 34 inches is a little low for most users, as your typical kitchen counter is 36 inches high. So if you want a stand-up counter, you need to be aware of this. Also, the space behind the counter needs to have the space for a wheelchair, typically 60 inches of turning radius. This can be handled with the floor space under the counter also.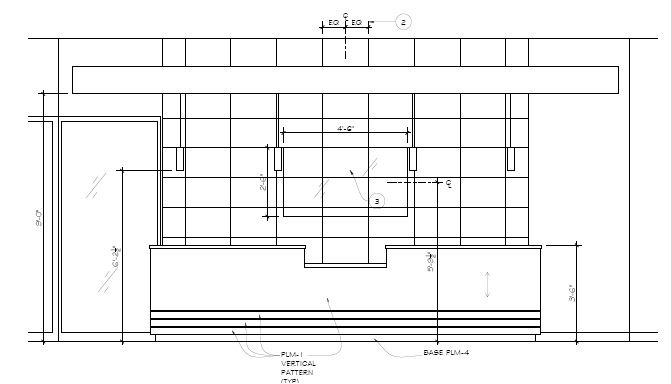 For further research, you can find these guidelines in the 2010 ADA Standards for Accessible Design by the Department of Justice, September 15, 2010 by visiting www.ada.gov/2010ADAstandards_index.htm.
This is a brief overview of the sections that should be reviewed when designing accessible counters. However, due to the varying interpretations of codes, this is not meant to be a complete listing and the full document should be taken into account for each individual project.
Chapter 2: Scoping Requirements
226 Dining Surfaces and Work Surfaces
227 Sales and Service
Chapter 3 Building Blocks
305 Clear Floor or Ground Space
306 Knee and Toe Clearance
Chapter 4 Accessible Routes
Chapter 8: Special Rooms, Spaces, and Elements
802 Wheelchair Spaces, Companion Seats, and Designated Aisle Seats
Chapter 9: Built-In Elements
901 General
902 Dining Surfaces and Work Surfaces
904 Check-out Aisles and Sales and Service Counters

PLAN YOUR ADA COMPLIANT HEALTHCARE OFFICE SPACE
Our CrossFields team has experience in planning, designing, and constructing Chiropractic & Holistic Health & Wellness offices and can help you plan for your next ADA compliant office. Contact us today to schedule a free consultation.